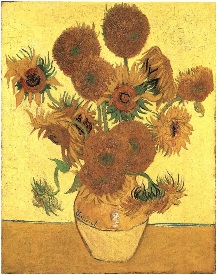 It's Summer/Fall and that means a lot of old standbys, including this twist on a classic: Sunflowers are so cool looking and even the boys don't mind painting them since they are not all pink and girly!
Here are sunflowers from past years.
I had all three class levels do this project and it was fun.
I briefly talked about Van Gogh, the most famous sunflower artist.
We started with black oil pastel. The younger kids were instructed to use handprint tracing to make the flowers (there isn't anything you can't do with handprints!). I also used this to teach warm colors and cool colors.